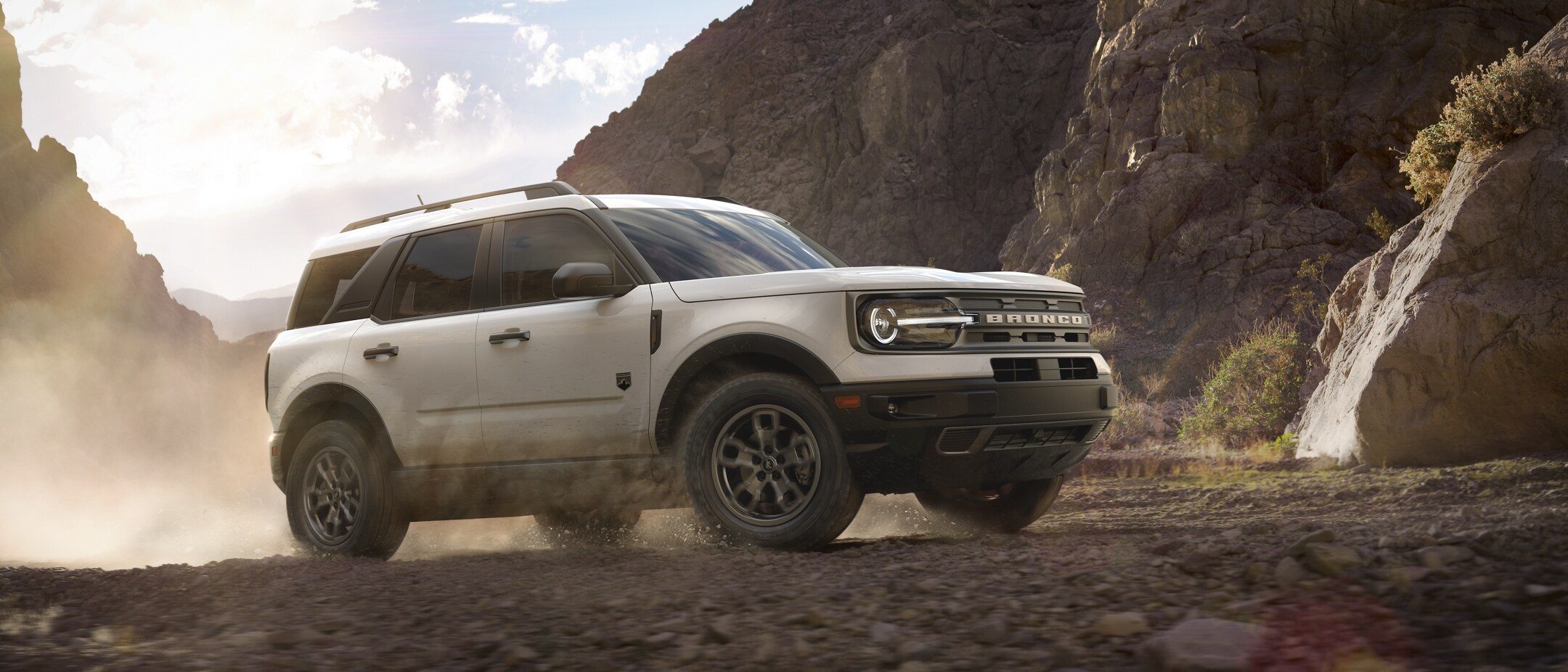 The 2021 Bronco Sport is bringing the wild closer than ever before! Engineered to bring you and your crew closer to where you want to be with the four available models featuring a standard 4x4, a Terrain Management System with G.O.A.T. Modes (Goes Over Any Type of Terrain) and an adventure-ready build.
It shouldn't cost a small fortune to get off the paved roads! Starting in the mid-twenties, the Bronco Sport makes previously inaccessible terrain not accessible, but affordable.
Engine Options
The 2021 Bronco Sport is offered with two turbocharged engines. A 1.5-liter turbo I-3 is standard, producing 181 hp and 190 lb-ft of torque. The upgraded engine is a 2.0-liter turbo-four with 245 hp and 270 lb-ft. An eight-speed automatic is mated with both engines.
The Badlands model replaces the standard 4x4 with an advanced 4x4 with twin-clutch RDU (rear drive unit) that can send torque to a single rear wheel even when the other three lack traction. It can divert almost all rear axle torque to either real wheel for exceptional agility on loose terrain. The Badlands model is the equivalent of Jeep's Trailhawk or Rubicon moniker, as it includes an off-road kit featuring all-terrain tires, the upgraded all-wheel-drive system, and unique suspension tuning with a 1.0-inch lift, softer springs, and reworked struts and shocks.

Interior
The interior showcases a cockpit ready to add some luxury to your overlanding adventures. There's an available 10 speaker with subwoofer B&O Sound System by Bang and Olufsen for a dynamic, immersive listening experience. An 8-inch touch screen showcasing a sleek, user-friendly interface and available wireless charging for compatible phones.
For easy clean-up you can get your Bronco Sport with rubberized flooring and seatbacks to protect your interior from your exterior exploits. The rear glass flips up for easy access and the safari-style roof adds enough height to fit two bikes standing up.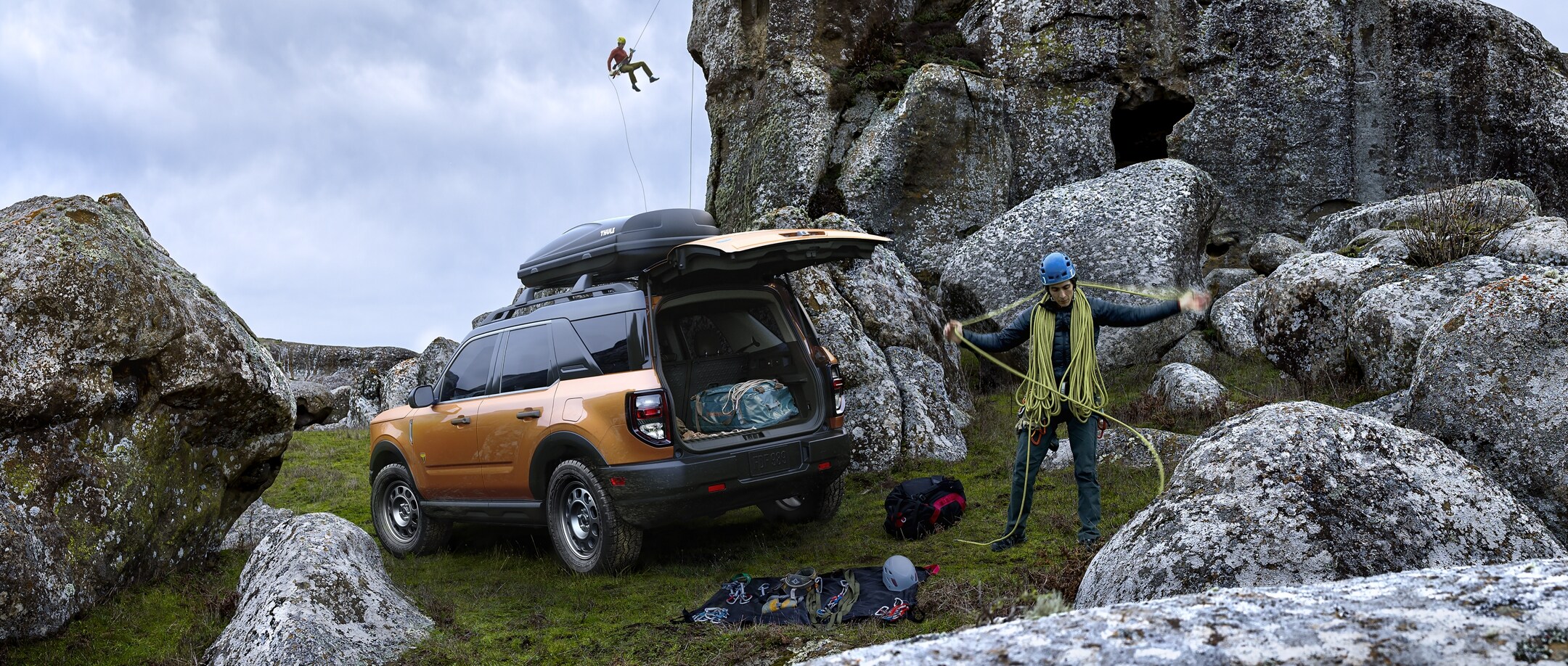 Additional Features
The tailgate features rear floodlights to illuminate tasks after dark while the 400W power inverter allows you to plug in anything you may need form a coffee maker to an air compressor. The cargo Management System creates dividers and shelves in your cargo area to keep things organized. The shelving will even fold out into a camp table to serve up some dinner.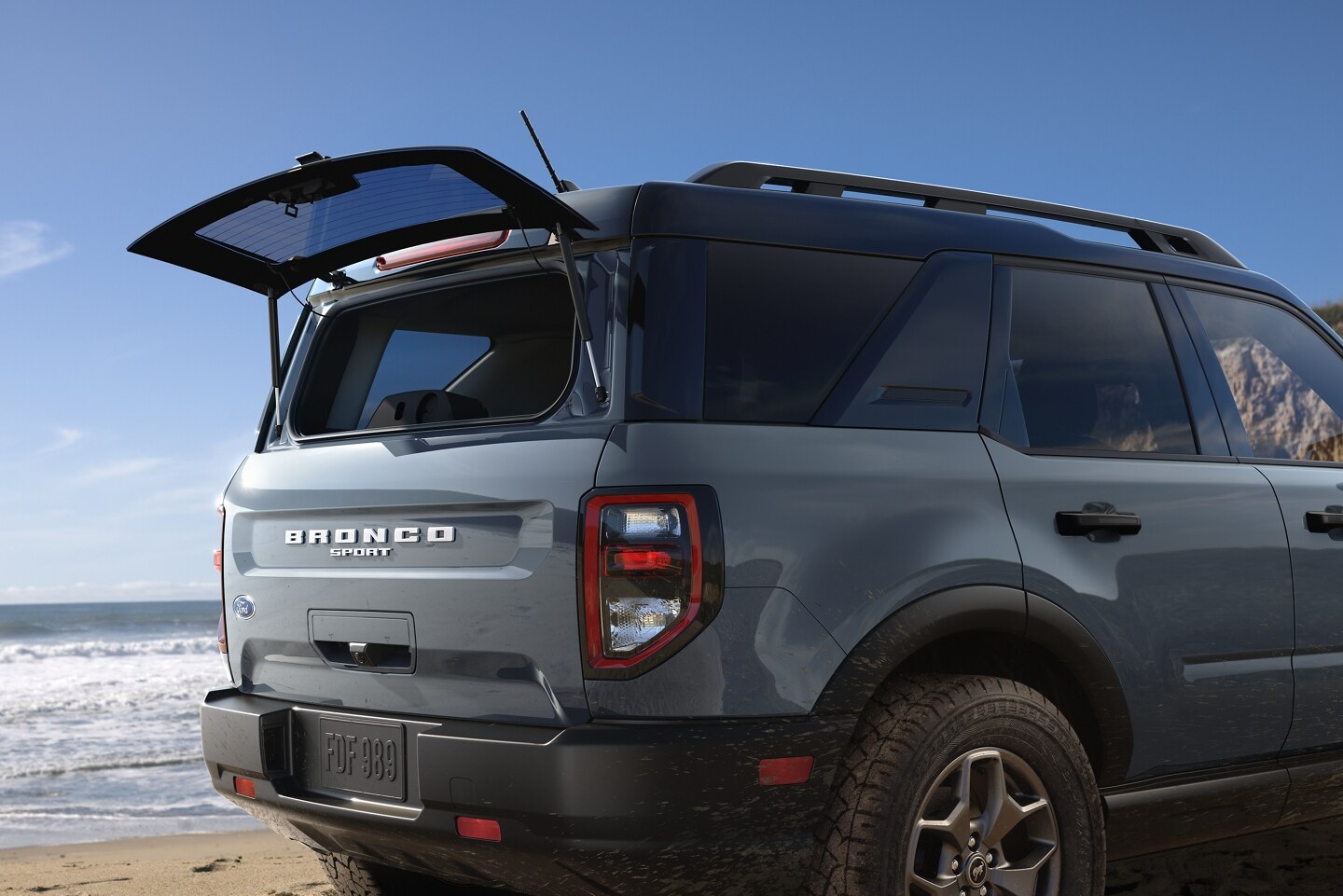 Start planning your next big adventure now because the 2021 Bronco Sport will be available late 2020!
Make an Inquiry