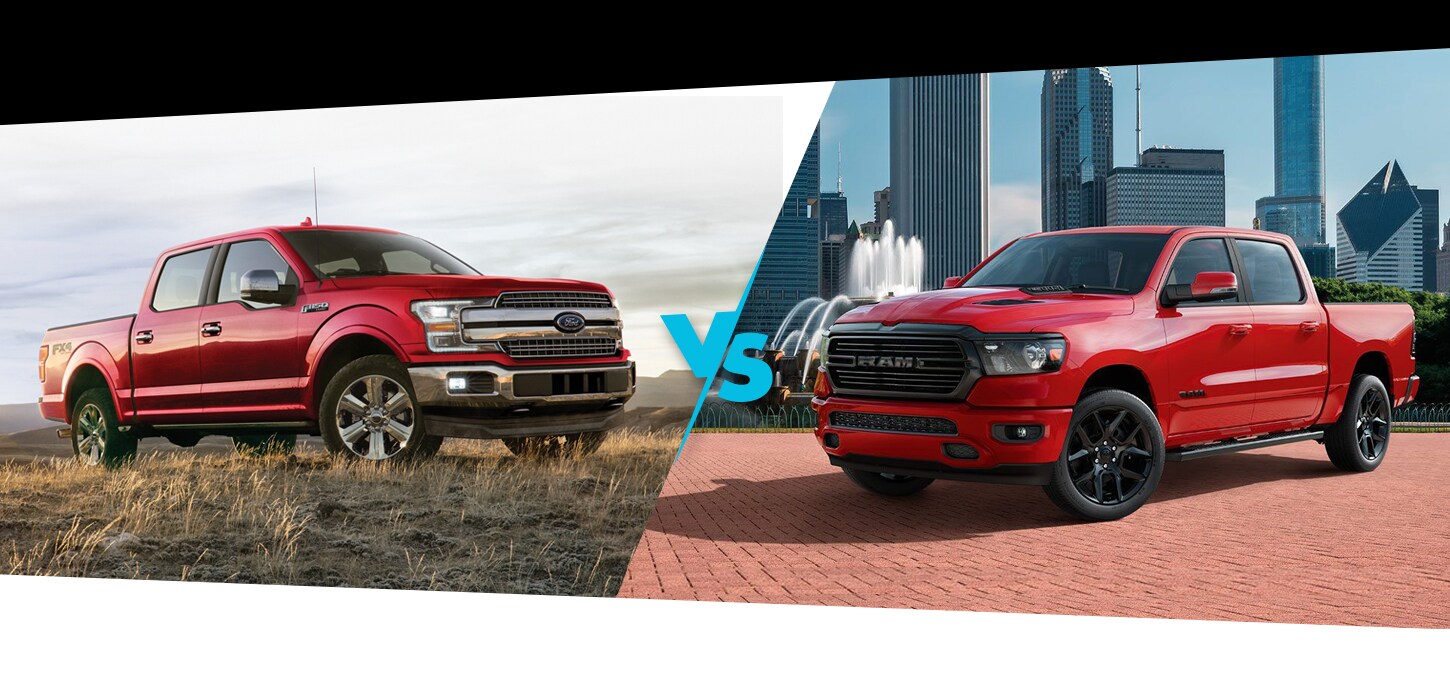 See Why The 2020 Ford F-150 Reigns Supreme
The full-size pickup segment is full of powerful, capable, and often times luxurious machines. Whether you're looking for a high-end pickup fitted with all the bells and whistles, a no-nonsense, haul-it-all work truck, or a menacing-looking, off-road warrior, you'll find exactly what you're looking for with an American-made full-size truck.
The F-Series, Silverado and Ram are the best-selling vehicles of any kind in the United States and are now playing a more prominent role as even more consumers make the switch shift from passenger cars.
In total, the F-Series has been America's best-selling truck for 43 consecutive years and its best-selling vehicle overall for the past 38 years. That's no easy feat in such a competitive market.
If you're shopping for a pickup and want the most for your money, you'll be looking at the top 2 trucks on the market. So, let's take a look at how the 2020 Ford F-150 compares to the 2020 Ram 1500.
| | | |
| --- | --- | --- |
| 2020 Ford F-150 | VS | 2020 Ram 1500 |
| 290 - 450 HP | Horsepower | 260 - 395 HP |
| 265 - 510 lb-ft | Torque | 269 - 480 lb-ft |
| 13,200 LBS | Maximum Towing | 12,750 LBS |
Pricing
The base Ford F-150 has an entry MSRP of $28,495, while the 2020 Ram 1500 comes with a starting MSRP of $31,895. This would put the Ford at about $3,000 less if you were to go with the base model.
Exterior
The Ford truck's chiseled fenders and blunt approach telegraph what it's best at: hard work. The Ram's a little softer, and a bit showier with its more suit-and-tie like feel.
Interior
First off, if you're looking for a two-door regular cab truck, Ford is the only one still making them. Ram got rid of the pure workhorse regular cab in favor of four-door only models. Both trucks showcase nicely appointed interiors with all the expected tech features to make the ride as comfortable and connected as possible. As for interior space, the rear seats are fairly comparable, but Ram had to compromise the legroom in the front row in order to make the second row seem roomier. As a result, the driver loses three inches of critical legroom in the Ram.
Power and Performance
While Ram offers you the choice of three engine options, Ford provides an impressive six choices allowing you to fine tune your pickup for exactly what you need.
Ford F-150 Engine Options:
3.3-liter V6 -  290 hp, 265 lb-ft of torque & max towing capacity 7,700 lbs
2.7-liter turbocharged V6 - 325 hp, 400 lb-ft of torque & max towing capacity 9,100 lbs
5.0-liter V8 - 395 hp, 400 lb-ft of torque & max towing 11,600 lbs
3.5-liter turbocharged V6 - 375 hp, 470 lb-ft of torque & max towing capacity 13,200 lbs
3.0-liter diesel V6 -  250 hp, 440 lb-ft of torque & max towing capacity 11,400 lbs
'High Output' 3.5-liter turbocharged V6 -  450 hp, 510 lb-ft of torque & max towing capacity 8,000 lbs
Ram 1500 Engine Options:
3.6-liter V6 -  305 hp, 269 lb-ft of torque & max towing capacity 7,730 lbs
5.7-liter V8 -  395 hp, 410 lb-ft of torque & max towing capacity 12,750 lbs
3.0-liter Diesel V6 -  260 hp, 480 lb-ft of torque & max towing capacity 12,560 lbs
Hours
Monday

9:00 AM - 7:00 PM

Tuesday

9:00 AM - 7:00 PM

Wednesday

9:00 AM - 7:00 PM

Thursday

9:00 AM - 7:00 PM

Friday

9:00 AM - 7:00 PM

Saturday

9:00 AM - 7:00 PM

Sunday

Closed
Make an Inquiry